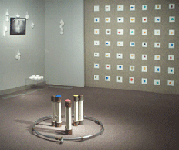 Tongue in Chic: 2 Perspectives
FEBRUARY 9 – MARCH 4, 2004
East Peoria, IL – The 305A Gallery at Illinois Central College is pleased to present Tongue in Chic: 2 Perspectives, an exhibition of works by Pamela Ayres and Kaz McCue. This is an unusual exhibition of contemporary works by this dynamic husband-wife team and is the first opportunity for the pair to exhibit their work together. The exhibition will feature a variety innovative works which play on the relationship between form and concept. Ayres' work is materially sensitive and contrary while McCue works towards sarcastic insight. Ayres' artistic background is in painting and sculpture and McCue comes from a background of photography, printmaking and sculpture. Despite the obvious differences in the form of their work, however, the two share a playful approach to subject and presentation.
This dynamic couple share their passion for the arts on many levels. In addition to their accomplishments as visual artists, the two also work as curators and educators. Ayres currently serves as the Director of Galleries, Exhibitions and Collections at Bradley University in Peoria, IL and McCue is the Director of the University Art Gallery at Indiana Sate University in Terre Haute, IN. The pair met in graduate school at Long Island University / C.W. Post Campus where they both received their Master of Fine Arts degrees in 1993. They have served as faculty at the University of Bridgeport in Bridgeport, CT and Nassau Community College in Garden City, NY and were responsible for the development of a nationally recognized exhibition program at The University Gallery / University of Bridgeport. They have also worked extensively with inner-city youth and kids with disabilities through the Music & Arts Center for Humanity in Bridgeport, CT and worked closely with programs such as AileyCamp, Neighborhood Studios and ArtWorks. They moved from the East Coast to the Midwest in 1991 and have continued to develop their artistic and professional careers. In 1993, both McCue and Ayres received individual artist project grants from the Indiana Arts Commission.
The 305A Gallery is located in the Library & Administration Building on the campus of Illinois Central College in East Peoria, IL. Gallery Hours are Monday through Thursday, 9:00 a.m. to 8:00 p.m. go on-line to www.icc.edu/Arts/exhibits/default.asp.